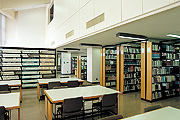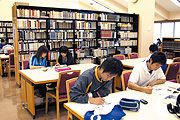 ●School Library
The IBU library located on the second and third floors of Building 4. IBU boasts an extremely comprehensive collection of valuable antiquarian books related to Budo, highly appreciated by researchers both inside and outside of Japan.
【Library Hours】
●9:00 - 18:00 Monday - Friday
※Note: Library hours will be subject to extension in the weeks before and during examinations. Furthermore, hours will be shortened during summer, winter and spring holiday sessions. The library is closed for national holidays, IBU Founding Day, New Year's Day, and another holidays designated by the University.
We will inform you of any other schedule changes on a case by case basis.
Library Services
【Find Resources】 
●Internet searches of the IBU Library holdings and archives can be made online through
OPAC (http://www.budo-u.ac.jp/gakunai/)
. The University has access to a number of domestic and international extramural holdings, available through a variety of databases, including the National Institute of Informatics, NACSIS-CAT, and NACSIS-ILL. Through these databases, students can access and request articles and books from other university libraries and research institutions. (Duplication and postage of requested materials are at requester's expense.)
【Acquisitions】
●If a book is not available, students can apply to the library staff to request the acquisition of new materials.
【Help】
●If you need help with a research topic, are having difficulty connecting to the University wireless network, or can't find a book on the shelves, please visit the the reception counter during open hours to receive help from a University librarian.
【Circulation and Renewals】
●Only students and teachers affiliated with IBU have borrowing privileges. You will need your University ID to borrow books. The lending period for Undergraduate students is one week. If you think you will need the materials for longer than a week, please renew in person at the library reception desk.
【Holds】
●If a book you are looking for is currently checked out, you may request a hold on the book at the reception counter.
【For Extramural Customers】
●Please make an appointment by phone with library staff to schedule your visit to the University library.
TEL: 0470-73-4150
Please do not forget to bring your referral form and ID when you make your visit.